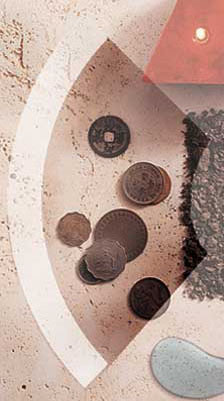 color:
white, metallic
shape:
dome, round
location:
west & NW
life:
children & creativity
body:
lung & head
virtue:
integrity
energy:
physical

PRODUCTS
exclusives from feng shui design
Car Crystals

The colors of the om ma ne pad me hum mantra provide protection for you as you drive. Use the hook provided to attach the crystal to the rear view mirror or visor. Directions to empower the crystal for safety are enclosed.

20 mm dime size crystal ball with 6 crystal beads in the 6 true colors of protection
$18

20 mm dime size crystal ball on red ribbon
$10

Note: Please contact Pam to order or if you have questions. The item descriptions are more accurate than the photographs for the items above.
The Feng Shui Design products below are custom made and available by special order. Please contact Pam Kai Tollefson directly. To view an enlarged photograph, click the image to the right of the description. Use your browser's back button to return to this page.
Zen Sandbox with rake is a wonderful addition to a rooftop or yard meditation area. Not limited to outdoors, this conversational piece can be used in a recreational or work environment as a tool to stimulate creativity and discussion. Four feet by six feet by nine inches. $600

You love plants, but don't like the odd pots sitting around the floor of your sunroom or porch? Put most any unsighly pot in our sandbox planter to geve a uniform Zen look. Size is two feet by four feet by eighteen inches off the floor. $350
Call for custom sizes.

The Zen Crate is custom designed for your air conditioner or other ugly mechanics you would like to hide. Lovingly made from the finest white cedar to your specifications this four-sided unit has a slatted table top. If you don't need the back side covered, the fourth side can be used as an attached screen. See photograph. This crate unit will enhance your small spaces so you will want to spend more time there. $500 up

Auspicious Stained Glass Bagua

Put in a window at the end of a hallway to stop your eye before it looks out the window
Put on the patio door
Put anywhere that you want the auspicious octagon shape and colors
Put where birds can see it to avoid crashing into the window

Size is 12 inches by 12 inches. $188